UP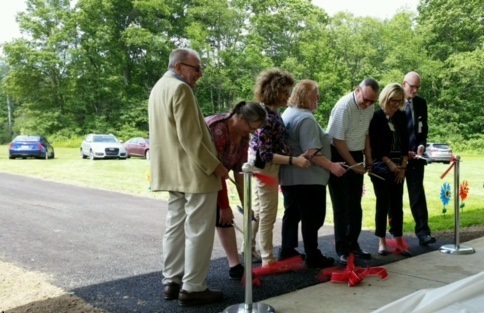 MC Northwest's walking trail has celebrated its 12 year anniversary with a major make over. As part of its anniversary and revitalization, Northwest Hospital Foundation hosted a rededication ceremony on Thursday, June 29 at the pavilion located along the trail.
Brian Durniok, UPMC Northwest president, began the program by stressing the importance of walking as a key indicator of keeping the community healthy and as a way of achieving a better quality of life.
He shared, "We take great pride as a hospital, and through the generosity of many community friends, that we are able to share this great addition to UPMC Northwest with not only our own employees but with the greater Venango County area."
Theresa Edder, Northwest Hospital Foundation executive director said, "It was a great honor to work with the donors, as well as IA Pavers and Kings Landscaping, who made the enhancements to the walking trail a reality. It is something that the entire community, from our employees to our neighbors and local students, and even our four-legged friends can enjoy for many years to come."
Donna Puleio, MD, UPMC Northwest oncologist, and Susan Senko, community member, also shared comments about the importance of the walking trail. Robert Pilewski, MD, gave a blessing for the trail that 'encircles our center of healing at UPMC Northwest'.
To conclude the event a ribbon cutting ceremony and inaugural walk was held, led by Frank Gill, Northwest Hospital Foundation president, Theresa Edder, Brian Durniok, Dr. Donna Puleio, Dr. Stephen Cenedella, Dr. Robert Pilewski, Susan Senko, Chris Marshall, Kings Landscaping representative, and Melissa Smerkar, assistant branch manager at the Oil City First National Bank, who were joined by a group of hospital employees, foundation members and friends.
The Northwest Hospital Foundation recently spearheaded a project to provide nearly $80,000 to the hospital to have the entire trail paved and entrance areas installed for easier pedestrian access. Other trail enhancements included the addition of three rest areas featuring benches and landscaping.
The Dr. and Mrs. Arthur William Phillips Charitable Trust, along with seven additional donors, provided the funding for the project.
What began in 2005 as a mulch-covered path (that was later converted to gravel) around the newly constructed UPMC Northwest hospital, the walking trail's initial purpose was as a wellness benefit for hospital employees. Over the years, the interest and usage of the trail by local community members and school students has grown steadily.
On any given day, the trail plays host to not only hospital employees and locals getting some exercise, but also to Cranberry High School runners in the cross country and track and field programs.
According to Andi Barrett, physical education teacher and head girls cross country coach at Cranberry, approximately 70-75 students train on the trail throughout the school year, adding the .9 mile trail to their regular workout in a safer, less traffic-ingested area.
Barrett says, "The trail gives our students a safe location within the community to work out and allows them to run on different terrain and gives them new scenery other than the regular routes around our own school campus that can get monotonous."
Regarding the recent enhancements to the trail, she says, "The walking trail upgrades have been a great addition to UPMC NW. As a coach, I not only get to see my student athletes reap the benefits, but I see numerous employees utilizing the trail on their breaks or before and after their shift."
She adds, "The physical education teacher in me loves to see something so accessible and user-friendly being put to good use by community members of all ages, and I especially enjoy hearing my students say 'yes' or 'sweet' when I tell them that we're heading to UPMC Northwest."