Nature Walk at Hospital Trail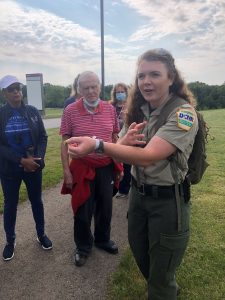 Ivy Kuberry, Environmental Education Specialist from Oil Creek State Park, shows off a piece of gill-over-the-ground ivy during a one-mile nature walk that was hosted by the Northwest Hospital Foundation.   The walk was held last week at the UPMC Northwest walking trail for staff, patients, and the community.
Upgrade to UPMC Northwest Walking Trail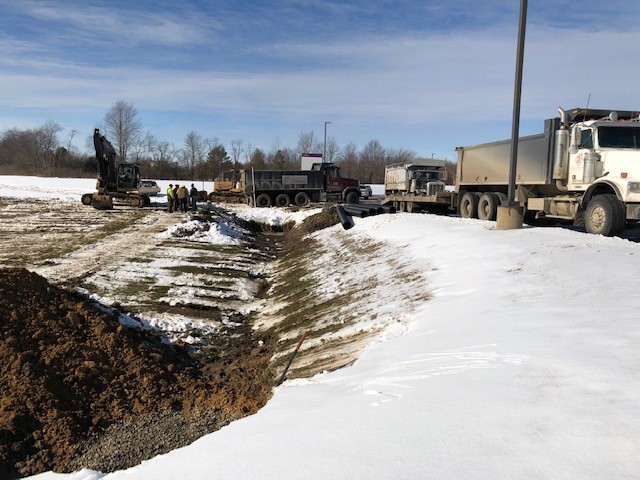 The popular walking trail is getting an upgrade to provide better access to the walkway.  The one-mile-long trail that loops around the hospital began as a mulch-covered path in 2005.  It was later converted to a gravel walk and in 2017 was rededicated when it was paved.  The Northwest Hospital Foundation led the effort to provide nearly $80,000 to the hospital to have the trail paved and entrance areas installed.
The path is used by hospital employees as well as the local community and school students, including Cranberry High School runners.
The improvements being done now near the main entranceway to the hospital will correct the grade, improve drainage and provide installed ADA mats.  The work will bring the trail into ADA compliance.
Access will also be enhanced for patients and visitors with physical challenges with the installation of more accessible curb cuts.  "Since paving the trail in 2017, the hospital has received requests from individuals with mobility limitations who would like to access the trail independently," said Theresa Edder, executive director of the non-profit foundation.  "Together we can ensure inclusion for all who want to benefit from the trail by ensuring safe access by wheelchair, walker, cane or any other assistance device."
Funding for the project came from the Elizabeth S. Black Charitable Trust.  Whalen Contracting is doing the work which should be completed this spring.
Enjoy the Walking Trail!
Bringing a friend or family member to Northwest Hospital for a procedure?
Skip the waiting area and enjoy the Walking Trail!
Through the generosity of our community, the Trail offers a smooth, paved surface, three seating areas, and doggie stations for your fur-babies.
Pictured:  Vicky & Charlie
Northwest Hospital Foundation Hosts Ceremony to Celebrate Anniversary of UPMC Northwest Walking Trail
UP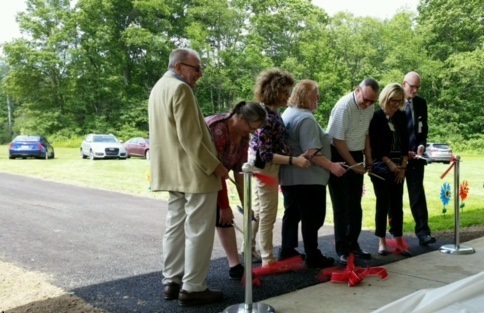 MC Northwest's walking trail has celebrated its 12 year anniversary with a major make over. As part of its anniversary and revitalization, Northwest Hospital Foundation hosted a rededication ceremony on Thursday, June 29 at the pavilion located along the trail.
Brian Durniok, UPMC Northwest president, began the program by stressing the importance of walking as a key indicator of keeping the community healthy and as a way of achieving a better quality of life.
Archives by Month:
Archives by Subject:
Archives by Year: