Northwest Hospital Foundation Board Members Donate Funds to Establish Clothing Fund for Patients in Need
On any given day, there are multiple patients who visit the UPMC Northwest Emergency Department and Behavioral Health Unit. Their reasons for being treated in these units range from experiencing routine symptoms to more severe illness or injury.
The Emergency Department staff began noticing with increased regularity that patients needed a change of clothes to return home, a situation that the patient or their family were not prepared for in many instances.
Whether patients are victims of sexual assault or have been in automobile or other traumatic accidents, the need to remove the patient's clothing, sometimes ruining them in the process, is necessary to properly treat the patient.
Annual Corporation Meeting Details Commitment to Area Hospital and Patients Served
Over 100 members of the Northwest Hospital Foundation Corporation gathered for their annual meeting on Wednesday, October 12 at The Franklin, where they reflected on foundation activities over the past year and were introduced to several new UPMC Northwest initiatives. Board chair, Frank Gill, welcomed 12 new members from surrounding communities to the corporation:  Randy Amsler; Bill Buchna; Michael Dill; Dr. Roxanne Gonzales; Judy Lentz; Jodi Lewis; Mary Louise Logue; Richard Mihalic; Will Price; Ryan Rudegeair; Roxanne Spaid; Doug Volmerich.
An important benchmark was reached when the foundation board participated 100 percent as donors, personally demonstrating their commitment to the organization's mission. This achievement resulted in enough funds to be set aside for a clothing fund for patients who are treated at UPMC Northwest who present at the hospital without sufficient clothing or who may find themselves without clothing due to a rape situation or an accident. Philanthropic support to the foundation was highlighted with mention of two recent grants. The Addison Gibson Trust recently provided $100,000 of uncompensated care to area patients and The Phillips Charitable Trust provided $50,000 for paving the walking trail at UPMC Northwest.
Northwest Hospital Foundation Names Kay Ensle Executive Assistant
Northwest Hospital Foundation is pleased to announce Kay Ensle is joining the staff as executive assistant to support growth initiatives. Ensle will provide administrative support to the executive director, including donor research and data management, financial and goal reporting, and social media communications.
In regard to this new opportunity, Ensle commented, "This is a wonderful opportunity and I am grateful for the chance to assist in the growth and continued development of the foundation. I look forward to providing support to the executive director and the board, as we work together to enhance the Hospital's mission to provide high-quality health care to our area residents."
UPMC Northwest Introduces New Service for Patients with Sight-Threatening Conditions
Northwest Hospital Foundation and the Teleconsult Center at UPMC Northwest are teaming up to provide patients with state of the art ophthalmology evaluation services using newly acquired digital retinal scanning equipment and telemedicine technology that provide direct access to medical specialists at the UPMC Eye and Ear Institute in Pittsburgh.
UPMC Northwest has acquired a Centervue Digital Retinography System (DRS) and telemedicine cart designed specifically for use with the new ophthalmology equipment through a generous grant from the Northwest Hospital Foundation.
Northwest Hospital Foundation Elects Officers, Welcomes New Members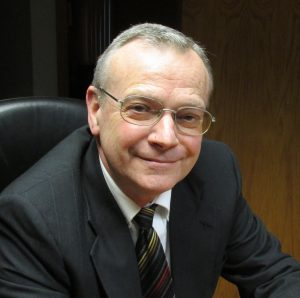 The Northwest Hospital Foundation began 2016 with a change in its board leadership.
Frank Gill, Jr. has been elected chairperson of the 15-person board, with James Greenfield being named vice-chairperson. Gail Welch serves as treasurer, and Carol Williams is secretary.
The group was voted into office at the foundation's November 2015 meeting that also welcomed new board members Rod Griffin of Specialty Fabrication and Powder Coating, LLC, and Mike Morrison of Morrison Funeral Home, Inc.
UPMC Northwest Behavioral Health Unit Adds Wall Mural to Improve Patient Experience
The staff in the Behavioral Health unit at UPMC Northwest have spent years caring for some of the community's most vulnerable individuals, those who have experienced severe trauma, various types of abuse, addiction, loss, illness and financial strain. Their goal is to look at the whole patient while treating both physical and emotional symptoms.
The recent addition of a large wall mural in the unit enhances the care provided to patients in the Behavioral Health unit on a daily basis.  Because hospital environments can be somewhat sterile and uninviting, the addition of a colorful, interesting focal point can have a major impact of a patient's mood and treatment success.
Archives by Month:
Archives by Subject:
Archives by Year: